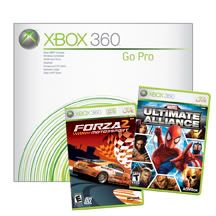 Haven't bought an Xbox 360 yet? What are you waiting for? (Sam?) Well, Microsoft is sweetening the pot for you slackers.


For the holiday season, Microsoft is adding two games to their Xbox 360 Premium and Elite bundles. Those games? Forza Motorsport 2 and Marvel Ultimate Alliance!

So, by the end of October, both the Premium bundle($349) and the Elite bundle($449) will come with two games. That's a lot better than the zero that my 360 came with. You Johnny-Come-Latelies get all the deals - discount, the choice of the Elite and two free games. Bah.