Just when you thought Microsoft had released all the Xbox 360 SKUs they possibly could, they go and release another. Welcome the Xbox 360 Arcade.


The Xbox 360 Arcade has been getting a lot of slack by gaming sites. And to be honest, I probably won't be much kinder.

The Xbox 360 Arcade costs just $279.99 and comes with a 256 MB memory card, a wireless controller, HDMI outputs, and 5 Xbox Live Arcade games (Boom Boom Rocket, Feeding Frenzy, Luxor 2, Pac-Man Championship Edition and Uno).

Obviously, it's better than the original Xbox Core system. So what's with all the complaining?

Look at this picture.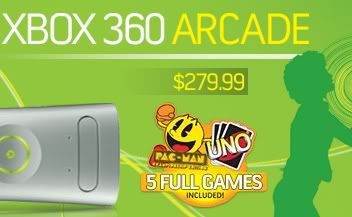 If you didn't know any better, you would think it came with 5 real games instead of 5 Arcade games.

A 256 MB memory card? That will fill up in no time. Can that even fit all the Arcade games on it?

The Xbox 360 Arcade is simply Microsoft trying to lure casual gamers into the Xbox world. The price is compatible with the Nintendo Wii. Once players get hooked, they'll have to upgrade to a harddrive to do any real gaming. Not to mention Xbox Live.

I know casual gamers are all the rage right now, but I say screw the casual gamer. Either you're a gamer or you're not, and in my book, casual gamers are not.