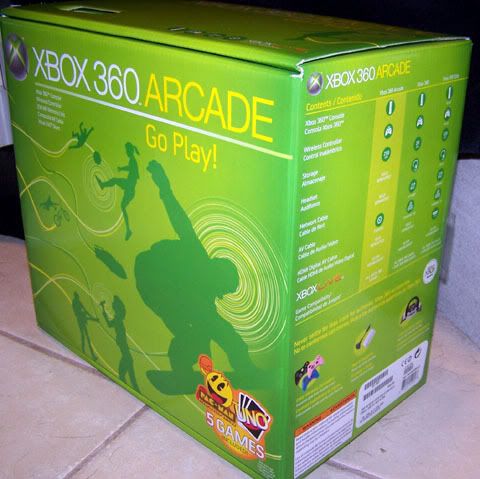 I bought the Xbox 360 Arcade yesterday to replace my busted Xbox 360 Premium. The Arcade is the new Core system from Microsoft. It's definitely better than the Core system was. Here's some of my thoughts about the Arcade system.


First, what does it come with? The Xbox 360 Arcade comes with a wireless controller, a 256 MB memory card, standard video cables(no HD connection) and a copy of Xbox Live Arcade.

The wireless controller is definitely a nice change from the wired controller that used to come with the Core system. Plus, I've been meaning to get another wireless controller for a long time now.

The 256 MB memory card? Meh. I guess it's alright for saved games if you don't have a harddrive. I just transfered over the harddrive from my dead 360.

Standard video cables are ok if you don't have an HD TV. I used the component video cables from my Premium. One cool thing about all the new 360's are that they all have HDMI outputs, the 360 Arcade included. Unfortunately, the HD TV my 360 is hooked up to is too old to have an HDMI input. If you are lucky enough to have an HDMI input, you'll have to buy the HDMI cable seperately.

Xbox Live Arcade is five XBLA games on a DVD - Uno, Pac-Man Championship Edition, Boom Boom Rocket, Feeding Frenzy and Luxor 2. This was a pleasant surprise. I had thought they might just include download codes. This makes up for the fact that I already own two of these XBLA games. Now I can delete them off my harddrive and save a little bit of room.

So far, my Xbox 360 Arcade runs pretty cool. It doesn't heat up too much even after hours of play. It's also pretty quiet. Overall, I'd say some of the upgrades Microsoft has been implementing are working pretty well.